Hi all and welcome to my Photo Friday for this week.
In England we have a tradition that on the 11th day on the 11th hour of the 11th month we remember those who fought and died for their country in the two major wars of this world and the smaller conflicts some of witch are still on going.
We remember the brave heroes and what they gave up for us. they gave their today so that we may have our tomorrow.
and how do we honor them? with a poppy, a small flower that grows wild
I thought about this a lot when I was walking and saw a field full of them.
I really do feel sorry for all the lives that have been lost, all those people we lost and all because the people in charge are to ignorant to try and come to some kind of understanding, they have no respect for life and it is the people who are left behind that pickup the pieces.
It is these people that give there lives and see horrors that no person should ever have to see . they are heroes but at what price and who will pay the price of puttin
g their lives back together after the horror that they have witnessed.
they pay such a price so that we can stay safe at home and I am eternaly greatful to every single one of them who fight for our freedom.
I just wish that the wars had never happend in the first place I wish they could all come home. we are human beings and we are better than this. I'm sorry its just the way I feel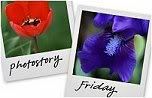 Hosted by Cecily and MamaGeek