Welcome to my photo Friday for this week.
Now I have seen some strange things in my life.
but the other day in the park I saw this thing.
Can anybody tell me what it is for?
I really have no idea.
there are two of these in the park one at each end.
I am really curious about it . I think it could be for tying a shoe. any suggestions?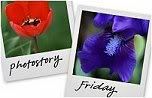 Hosted by Cecily and MamaGeek