It has just been to long since I did a photo Friday, I have been so busy that I haven't really had time to do to much of anything lately but however I thought it was about time for me to yet again risk life and limb to bring you the photo's that will make worthy for a a good photo Friday.
So my picture for this week is one of those pictures that I took that I was warned against ever showing if I wanted to live to see my next birthday.
I really did risk my neck to bring you guys this picture so I hope you can all appreciate just why I was told I would die if I showed it.
so here it is.
say hi to my mother and sister. I hope they don't kill me for this.
have a great photo Friday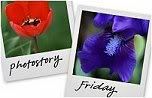 Hosted by Cecily and Michelle