I haven't taken part in photo Friday for a while due to a lack of material
but now with Lot's of new pictures I am back
So here is my photo Friday for this week.
This is Melissa, I was taking a picture of her to show my Jenn.
I aimed the camera and said "Smile Melissa". so what does she do?
puts her head upside down and sticks out her tongue.
Oh well typical Melissa.
Well I hope you all like my photo Friday.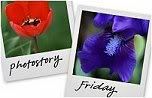 Hosted by Cecily and MamaGeek