Welcome to my photo Friday for this week.
The first of this month saw yet another new addition to the family, Yes that's right I am a great uncle again.
I would like to introduce to the world my great nephew.
Jack
He was born at 4:13pm on the first of September and weighed in at 8 pounds and 2oz
He really doesn't like to be disturbed as you can see by his expression .
He really is a great kid and he is so cute. I am sure he will grow up strong and fine.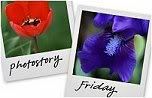 Hosted by Cecily and Lolli