Welcome to my Photo Friday for this week.
I have only just learnt that my phone has a panoramic feature.
I have had the Phone for just about 5 months now and I am still discovering the things it can do.
It is a
Nokia
6120 Classic and I love it.
So any way here is my first attempt at the panoramic picture view.
I know it is only a small picture but I am so proud I took the 360 degree picture.
I may try a few more of these.
I hope you all like my 360 picture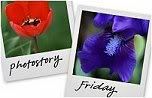 Hosted by Cecily and MamaGeek