After missing last weeks photo Friday due to Internet problems I am so happy to be doing my photo Friday for this week.
So here is my photo Friday.
I decided that I would walk through the park on my way to work and take a few pictures around the pond for my beautiful Jenn.
See what a nice place it is.
People can even fish from the banks of the pond.
And the ducks are very curious
especially this fellow who came up to the camera .
I think he was about to peck me or something so I made a hasty retreat and headed to work.
Well I hope you all like my photo friday for this week.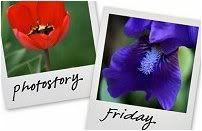 Hosted by Cecily and MamaGeek