Welcome to my photo Friday for this week
When I went to the States to see my beautiful Jenn I came across this truck in the parking lot at Wal~Mart. can you read what it says?
Yep that's right, in big writing all over it it says England. I'm sure that place follows me lol
At least the truck wasn't following me lol, I've seen the movie duel and road kill.
I just thought it was kinda funny I saw this truck, I mean what are the odds?
A English man in America looking at a American truck that says England all over it.
I hope you enjoy my photo Friday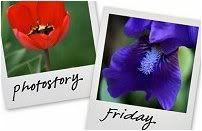 Hosted by Cecily and MamaGeek