Well this week I am in the USA visiting my Beautiful Jenn and I thought that on the way here it would be the ideal opportunity to take some photos of the flight so I hope you all like.
Sorry about the blur I was nudged. I flew with
KLM
they are
awsome
.
This was my view through the window.
If I looked
back through
the window I could see the engine.
This is the view I love every time I fly.
This is the coast of Amsterdam and where I catch my second flight.
This is the plane that took me to the
USA
from Amsterdam.
Check out the
awsome
view I got on this flight , Right next to the engine.
And The same shot but in the air
doesn't
it look amazing?
If I
rais
e the camera angle just
a little
I can see the entire wing.
Isn't this a truly beautiful view?
To me this is the most beautiful view in the world, the reason I did all that travelling , it's my beautiful Jenn.
I hope you all enjoy my Photo
Friday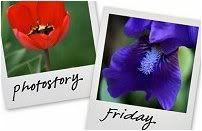 Hosted by Cecily and MamaGeek