Welcome to my photo Friday for this week.
I was walking through the park taking pictures for my Jenn when this little fellow came up to me and seemed to insist I took his picture.
Can you see him?
There he is with his butt in the air.
Hold on he's combing his hair.
Isn't he cute.
I love squirrels I would have one for a pet if it was legal.
Well I hope you all like my pictures for this week.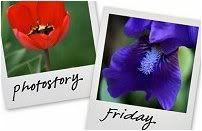 Hosted by Cecily and MamaGeek