I am a great uncle and my nephew is so cute
Born weighing 4 pounds and 7oz he was very small.
I took lots of photos for you all to see.
Here he is looking around the room
Here is my neice and proud mother to baby Marcus.
Time for feeding
and after food it Seems there is nothing like a good sleep.
All nice and snug in his baby carrier.
I hope you all enjoyed my photo friday.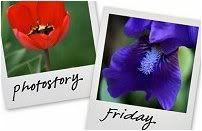 Hosted by Cecily and MamaGeek