Here is a strange one, the black dot in the center of the picture is in fact the sun I don't know why it turned out that way but I think it looks cool.
If you look at this one it kinda looks like the head of a shark isn't it amazing, I love to look at the clouds and see what shaped I can make out of them
Same cloud as the picture before but about 5 minutes later.
Well there are my pictures for this week I hope you all enjoy.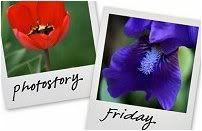 Hosted by Cecily and MamaGeek