This week I thought I would take some pictures of the cats I live with.
This is Sophie, Don't worry she's not dead she just likes to sleep like this for some reason.
This is Polly She is the teaser of the group she loves to wind Sophie up every chance she gets.
This is Melissa. She is Polly's sister, Melissa spends most of her time fetching Laundry from my room and howling in the early hours.
Here is sugar the heavy weight of the cats she will eat anything in her way and is the boss of all the other cats. sorry about the bad picture off sugar she never holds still.
I hope you all like the pictures of the cats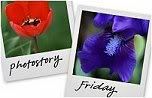 Hosted by Cecily and MamaGeek