This is now my 4th photo Friday and I have had so much fun so far.
I always think it's amazing just how small we are in the grand scheme of things and it was only till a while ago that I realized just how small we are.
This is a picture of our planet, isn't it amazing to think that even though we are big compared to a insect or bug we are just little dots compared to the planet we live on. who would think there are billions of people on this our planet you can't even see us in the picture we are so small.
As you can see from this picture our planet again is but a small spec compared to the size of most of the other planets and next to the sun we are so small it's the same comparison as when we stand next to a small insect like a ant or a flea. we are really small.
As for our sun if you think it is big then take a look at this photo of our galaxy. if you look close you can see our sun is highlighted by a yellow target and its path is also displayed.
Again as you can see we are really small in the grand scheme of things. Imagine how powerful of a telescope would you need to see us from this far away. we really are so small and our planet is so very fragile. but however it was mankind working together that made this picture possible so I guess that yes as individuals we are so small but as a race we are capable of anything. no matter how large the challenge is.
I hope you all enjoyed my photo Friday for this week.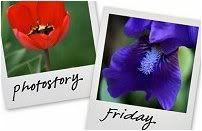 Hosted by Cecily and MamaGeek